Single Speed Mountain Biking
|
home




Links

WHATCOM INDEPENDENT MOUNTAIN PEDALERS (WHIMPs)
The premier mountain bike club in Western Washington. Their site is loaded with information.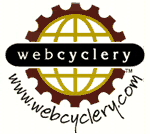 The
web cyclery
is THE place to find the stuff you need for SS mtbing.
For less than the cost of a good mountain bike tire you can sponsor a homeless dog (or cat) until it finds a good home at
WAIF
http://www.waifanimals.org/ Please do what you can to prevent the senseless euthanization of millions of pets each year.

www.theunityribbon.org/
The kind makers of this web publishing software
"Imagination is more important than knowledge."

-Albert Einstein