Cycling Camano Island
|
home



Marshall

Marshall (#418) racing at the Tour de Dung 1999
For such a nice guy he can really make you hurt on a bike.
Name: Marshall
Email Address: Cessi1@aol.com
Club or Team affiliation: Aurora Cycling Club
Home Town: Stanwood, WA
Occupation: Heavy contractor - semi-retired, investor.
Bike: LeMond & Davidson (road), Bushnell (tandem), Cannondale (Mtn)
Favorite Ride: (that's tough) Winthrop Fat-Tire Festival, or any tandem event.
Greatest cycling accomplishment: Getting sig-O Jean to ride as much as she does, including racing the tandem.
Inspiring quote: Don't make excuses, make fast!
Goals: Getting a team together for a road tour (ie: Cascade Classic)
Does your bike have a name? Not until I get a Campy-equiped Erickson
Best ever cycling crash or injury: Getting T-boned by Jean in a fast corner by Lake McMurry. Very dramatic but aside from a taco'd rear wheel and a helmet full of ditch dirt, harmless.
Favorite equipment: For racing, Ultegra or XT. For wall art, Campy Record.
Worst cycling purchase: The $200 decked out Peugeot I didn't buy in 1971.
Results or racing resume: Cat 3 road/Expert-master MTB. The best is yet to come!
My dream bike would be: Brazed & filleted Erickson, Record if single, XTR/DuraAce/Race Face if Tandem.
Hobbies, interests outside of cycling: Running, motorcycling, scuba, shooting, sailing, hiking, skiing (XC & DH), fine wine & robust beers.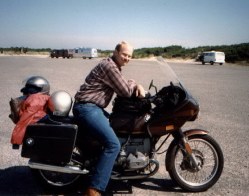 Marshall in a previous life. As you can see he's always
been a go fast kind of a guy.