Cycling Camano Island
|
home



Bike Favorites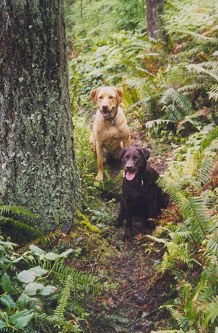 TIME ATAC Pedals
are the best off road pedal system I've used. Excellent entry, retention and release in most conditions.

Speedplay X2 Pedals
work great. I use them on the road & track. Excellent retention and rotation. Entry and release are excellent when lubed with "White Lightning."

XT 7 speed Thumb shifters-
Reliable, durable and simple. With a friction mode and a derailleur adjustment I can run 5-6-7-8-9 speed wheels on any of my bikes equipped with XT thumbies. 7 & 8 speed wheels both work in index mode.

Sidi Shoes
(Dominator & Genius) have performed well for me. The retention system is excellent and easy to use.

Pearl Izumi "Pittards" Gloves
are comfortable and durable.

TREK 970 Frames
. VERY tough, nice ride quality.

Mavic Rims
are easy to build, stay true and last a long time.

Best riding buddies,
Yarrow & Kirby,
singletrack wizards!

Lookout Mountain
has the best trails I've ever ridden.

Nothing beats a
Dick's Delux with Fries
after a good ride.

My favorite rides begin from my driveway.

I hope
Phil Ligget
lives forever "my goodness me!" His race discriptions are nearly as enjoyable at the races themselves. The Tour de France coverage here in the USA is greatly enriched by him.

The
Tour de France
is the single greatest sporting event on the planet.

My
Camelback HAWG
.

Jannd
packs, bags, panniers and accessories. Well made, durable and attractive.