Cycling Camano Island
|
home



Mo's Bikes

In early 2002 I had
Tom Teasdale
build me a custom steel frame and fork. He expertly blended the characteristics, geometries and tubeset into exactly the bike I wanted. I can HIGHLY RECOMMEND him if you are looking for a custom frame.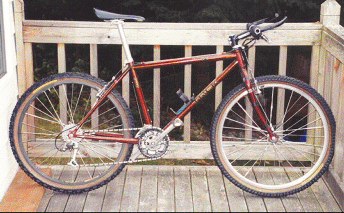 1996 TREK 970. I like it so much, I have two.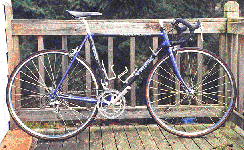 My TREK 2300 gets hard duty as my training & winter bike due to it's rust free durable construction. It is a neutral handling bike, very stable and predictable. My only knock on the frame is that it lacks lateral stiffness.
My road racing bike is a screaming yellow and red Cannondale CAD 3. It's responsive, light and sprints like a dream. I've been very impressed with this bike. My Aluminum prejudices have been disproven. It is comfortable over long distances and has proven to be durable. Great bike.
My track bike is a John Waite frame with Campy and Mavic components. I like the aggressive geometry and stiffness.
I own 1/2 (the front half) of a 1999 Cannondale Tandem. It's our second tandem.
Future Bikes: A unicycle and a recumbent (probably a bike SatRday) are still needed to complete (?) my collection.
Former bikes: I've owned a lot of different bikes. A Lemond Zurich, Schwinn High Sierra, a couple of Gary Fisher ProCalibers, A TREK OCLV 5000 road bike, a Serotta (columbus) road bike, an older Trek (531) road bike, a TREK 520 touring bike, a De Rosa Track bike, a Raleigh Track bike, a Burley Tandem, a Drake three speed, a Schwinn Varsity, a Schwinn Typhoon, a red trike and a few others....