Cycling Camano Island
|
home




Local Mountain Biking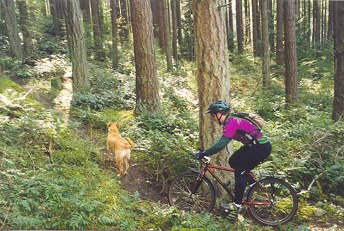 Anerobia
Mountain biking on Camano Island is limited. About 30% of the South DNR trails built by the Camano Trail Union (CTU) in the early 1990's were lost to the new Elger Bay School. Some of the remaining trails (Lower Dog, Anerobia, Vulcan and Apple Sauce) are fragmented. The Middle Sale road, Huckleberry Spin, Deadwood, Tater's Tail & Upper Dog are intact.
The Friends of Camano Island Parks
(FOCIP) built an excellent trail to access the North DNR ORV trails from Can-Ku road. Both DNR areas have potential to be great areas to ride but as of January 2001 remain largely undeveloped.
Excellent singletrack riding can be found within an hour of Camano Island at
Galbraith Mountain
, Lake Padden, Walker Valley, Pilchuck Tree Farms, Anacortes & Whidbey Island.