Cycling Camano Island
|
home






Harder than Hill route

This route incorporates some of Camano Island's nastiest climbs into one challenging route.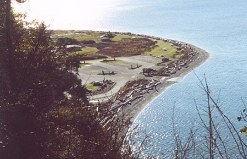 Park at Camano Island State Park near the boat launch

The route begins climbing right away through the park.

Exit the park and continue to the stop sign.

Left on West Camano Drive for a long rolling grind to Sunset Drive.

Left on Sunset Drive and descend into the Madrona Beach community before climbing out.

Continue on Sunset until you Reach Rocky Point Drive

Turn left on Rocky Point Drive

Descend to Brokaw turn right

Left on Scenic Ave onto Maple Grove Drive

A tough climb up Maple Grove back to North Camano Drive

Left on North Camano descending to Utsalady Road ***

Left on Utsalady, enjoy the flat scenic road for a short while

Right on Arrowhead to begin climbing again.

Right on Cross Island Road (big climb, good shoulder)

Descend to West Camano and turn left

South to Carp Lake Road for another climb

Right on Camano Ridge Road

Right on Camano Hill Road

Descend to West Camano Drive and turn left.

Left on Monticello for a short but vicious climb.

Descend to Elger Bay road and turn right

Turn right at Elger Bay Store (Mountain View)

A short decent before another challenging climb.

Turn left on Lowell Point Road and return to the Park.
This is the "short version" of the Harder than Hill route. The long route incorporates the ***Brentwood climb (extra nasty), Camano Hill road, Sunrise Road and a visit to the southern tip of the island for a trip up Camano head.