Single Speed Mountain Biking
|
home




Product reviews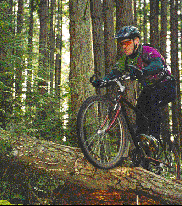 Over the years I've managed to spend a disproportionate amount of income on cycling parts. I discovered there is a point where it really becomes more about ego (not that there is anything wrong with that) than about REAL performance gains.
Listed below are the best products (in my opinion) that I've used over the years. I ride in Western Washington (the wet side), I seek twisted rooted singletrack, drop offs, logs, and the occasional rock garden. The more crooked the trail the better I like it.
Time ATAC pedals: Simply the best mountain bike pedal I've used. Consistent hookup and release even in less than ideal conditions. Nothing else I have tried (Onza, Shimano, Ritchey) has even come close to the performance of the TIME ATAC pedals.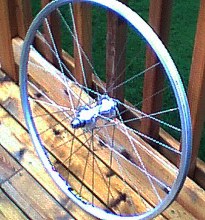 Mavic 217 & X517 rims: Trouble free, build easily, stay true, durable and have plenty of braking surface. I have built 7 wheels for myself and several more for others with Mavic 217 & X517 rims. All have been excellent, trouble-free wheels.
The ceramic X517 I have *slightly* improved wet condition braking and after two seasons it appears to have more durable braking surfaces. I'm not certain it's worth the extra $ but I'll keep testing.
The other rims I have used in order of preference are Bontrager, Sun, Matrix, Specialized & Araya. The Bontrager and Sun rims were nearly as good as the Mavic product.
Control Tech Bar Ends: I have used these for several years. They have withstood crashes, scrapes and extreme torque of out of the saddle efforts. The wide clamp holds them securely and is less likely to crimp your handle bars. I've used both the longer and shorter versions with equal success. I've also used Titec, Onza and Answer products and feel that the Control Tech Bar End is superior.
Made in the USA
In the aftermath of the attacks of September 11, 2001 I would like to say:
Regardless of your race, creed, color, choice of gearing or tire width we can live in peace. I feel blessed to live in a nation of diverse beliefs and ethnicity. We are not perfect, or even close to being so, but we have more opportunities and choices here than anywhere else in the world.

To everyone else, I wish you ALL the same liberty, prosparity and gearing choices that we have here. May we celebrate our differences and all ride in peace.

More reviews to come.
"The dude abides."
-Jeff Lebowski