Single Speed Mountain Biking
|
home




My Other Bikes


John Waite TRACK bike with Mavic and Campagnolo components

1997 Cannondale CAD 3 road bike with Dura-ace components.

2002 TET custom road bike.

1999 Gunnar Tire Biter.

1992 TREK 2300 road bike with Ultegra Components

2003 CO-MOTION CYCLES custom Tandem

1992 TREK 970 touring bike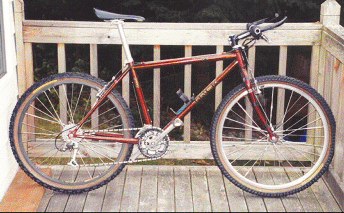 1996 TREK 970
I like them so much I have two these
A few of the bikes I used to have:

1994 Gary Fisher ProCaliber (traded)

1987 Schwinn High Sierra (sold)

1995 TREK 5000 (sold)

1987 TREK 500 (traded)

1997 Lemond Zurich (Sold)

1976 Schwinn Paramount (traded)

1969 Schwinn Typhoon (sold)

A red trike (given away)

Drake 3 speed (died on the road)

Unknown 3 speed with grip shift! The hole grip turned. (left for dead)

Schwinn Varsity (sold)

Raliegh Pro Track Bike (sold)

De Rosa Track Bike (Traded)

1993 TREK 1100 (sold)

1991 TREK 520 (sold)
"Most of American life consists of driving somewhere and then returning home, wondering why the hell you went."
- John Updike, "Rabbit at Rest"