Weightlifting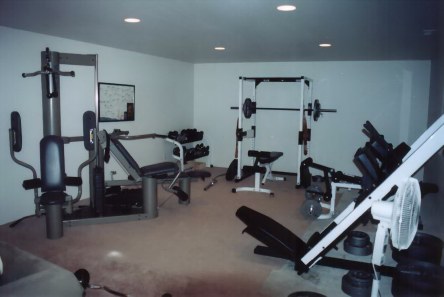 Mo's Gym Strength Area
L-R Vectra Online 1500, Parabody Dumbell Rack, Parabody Squat Rack, two Parabody Multi-Adjustable Benches, Tuff Stuff Leg Press / Hack Squat
The older I get, the more I appreciate the benefits of strength training. My health, performance (work and play) and appearance are all improved by strength training. Motivation is easy with progress and results. Believe it or not, it's fun to push the iron around.
I vary my strength routine to meet performance goals. I typically split my routine into three seperate workouts, Legs; Back & Biceps and Chest, Triceps & Shoulders. I prefer the spllit to whole body routine. If my time is limited or I'm doing a high volume of cardio I will incorporate a whole body routine.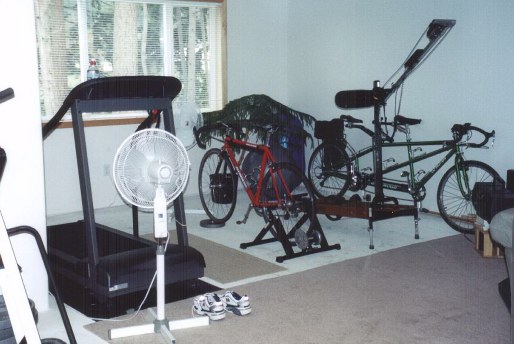 Cardio Area
L-R Pace Master Treadmill, Gunnar road bike on Fluid Trainer, Nordic Track Pro and a CoMotion Tandem in the background.
Typical Workout Splits
Legs (A)

Warm-up

Squats

Split Squats

Lying Leg Curl

Toe Raises

Abs

Cooldown on Stationary Bike
Legs (B)

Warm-up

Leg Extension

Seated Leg Curls

Leg Press

Toe Raises

Abs

Cooldown on Stationary Bike
Back & Biceps

Warm-up

Abs

Pull-ups

Pull-Downs

Shrugs

Low Cable or Dumbell Rows

Hyper Extensions

EZ curls, standing or preacher

Dumbell Curls

Cable Curls

Hammer Curls
Chest, Triceps & Shoulders

Warm-up

Abs

Bench

Incline Bench

Flys

Pullovers

Dips

Tricep Pushdowns

Lying Tricep Extensions

Shoulder Press

Cuban Press

Side/Front Raises

Bent Raises, cable or dumbell
If I am doing a high volume of cardio (Bicycling training and racing) I will switch to a whole body routine. I've found that I can mitigate strength loses and improve cycling performance. I rotate a triad routine that incorporates a wide variety of exercises but has three primary focus groups. I have a Whole Body Leg Focus routine with a higher volume compound leg exercise (4-8 sets) and 2-4 sets for the remaining body parts. My Whole Body Back Focus and Whole Body Chest Focus follow the same pattern of higher volume for the focus muscle group and a lower volume for the remaining groups.
Except for ab exercises I rarely do more than 20 reps and more typically in the 8-15 range. Occasionally I'll do dueces or fours. When I perform more reps than the desired range with good form I increase the weight, decrease the rest interval or pre-exhaust the muscle group.
I like to add drop sets for muscles like traps, triceps, biceps and shoulders occasionally. Once in a while I'll do negatives but it's rare and only if I have a good spotter.