Mo's Hiking and Backpacking Page
|
home


Gear List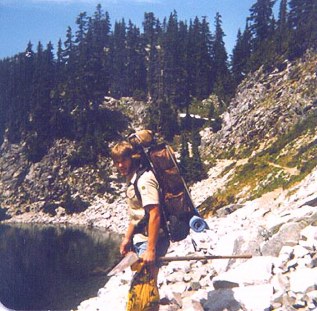 1981 working as a wilderness ranger in the Alpine Lakes Wilderness.
Note the Forest Service Shovel and Litter bag. A radio the size and weight of a large brick was also standard issue. It was a wonderful summer, backpacking 5 days a week, picking up litter, putting out fires, planting vegetation, rendering first aid, looking for lost Boy Scouts, taking water samples, recording user impacts, proselytizing to the masses the virtues of low impact camping and picking up more litter.
This is backpacking checklist I've used in the past. I have recently become aware of ultralight/minimalist backpacking and I'm intrigued by it. Read more about my transition
here
.
| | | |
| --- | --- | --- |
| Item | wt | Remarks |
| Backpack | 2.5 Kg | Jansport D3 20+ years old and still going strong |
| Tent | 4 Kg | Dome style |
| Space Blanket | | Ground Cloth |
| Sleeping Bag | 2 Kg | Rated +20F, synthetic fill |
| Therma Rest | | Very comfortable |
| Cord | | 550 parachute cord |
| Poncho | | Multitude of uses |
| Stove | | Coleman Peak One |
| Fuel Bottle | | usually .5 Liter |
| 1 liter pot | | Aluminum |
| Spoon | | cooking, eating and trowel |
| Cup | | Insulated |
| Bowl | | Aluminum, cooking, eating, scooping snow |
| Waterbottles | | 3-1 liter bottles |
| Matches | | bic lighter |
| candle | | |
| flashlight | | Mini-Mag lite |
| Knife | | |
| Toothbrush | | |
| TP | | |
| Mirror | | |
| Whistle | | |
| Soap | | Dr B |
| First Aid Kit | | |
| Sun Protection | | Hat, sunglasses, sun screen |
| Compass | | Silva |
| Map | | USFS & USGS |
| Bandanas | | |
| Gloves | | |
| Balaclava | | |
| Socks | | Usually 3 changes |
| Thermal Tights | | |
| Shorts | | |
| Shirt | | Usually short Sleeve button style |
| Arm Warmers | | Cycling style |
| Fleece Vest | | |
| Fleece Jacket | | |
| Camp Shoes | | |
| Boots | | |
| Food | | |
| Misc | | monocular, camera, books, fishing & climbing gear... |